Guar gum powder is a popular ingredient commonly used in Food, Healthcare etc. Guar gum powder is referred due to its excellent thickening, stabilizing, film forming & emulsifying properties, Rama Gum Industries is recognised for its manufacturing and supply of NON-EtO Guar gum powder to many European, American and Asian countries.
What is Ethylene oxide (EtO) and Why to use EtO Free Guar gum powder ?
Ethylene oxide is used as a disinfectant to prevent the presence of mold and reduce the risk of salmonella. Its "effectiveness in terms of disinfection" is known, recalls the National Agency for Food, Environmental and Occupational Health Safety (ANSES),
Ethylene oxide has been banned in the European Union since 1991 as a pesticide and since 2011 its use has been banned as a "food and feed protection product".
However, it remains authorized for the disinfection of medical equipment at European level, the maximum residue limit (MRL) of ethylene oxide authorized being set at 0.05 mg / kg.
It is not even approved as an active substance in plant protection products in the Union. However, since September 2020, the European RASFF (Rapid Alert System for Food and Feed) system has notified the entry of multiple foods contaminated with ethylene oxide in European countries.
Currently, the United States permits the use of ethylene oxide (EtO) for the reduction of microbial contaminants on various commodities. The U.S. enforces a limit of 7 parts per million (ppm) for EtO residues applicable to the spice and herb group (except basil), licorice (roots), sesame, peppermint, spearmint, and dried vegetables. Ethylene oxide is regulated in food by Reg. (EC) 396/2005, which defines it as the sum of ethylene oxide and 2-chloro-ethanol (a related product of its) expressed in ethylene oxide.
Ricol® Guar Gum – ETO Free Guar gum powder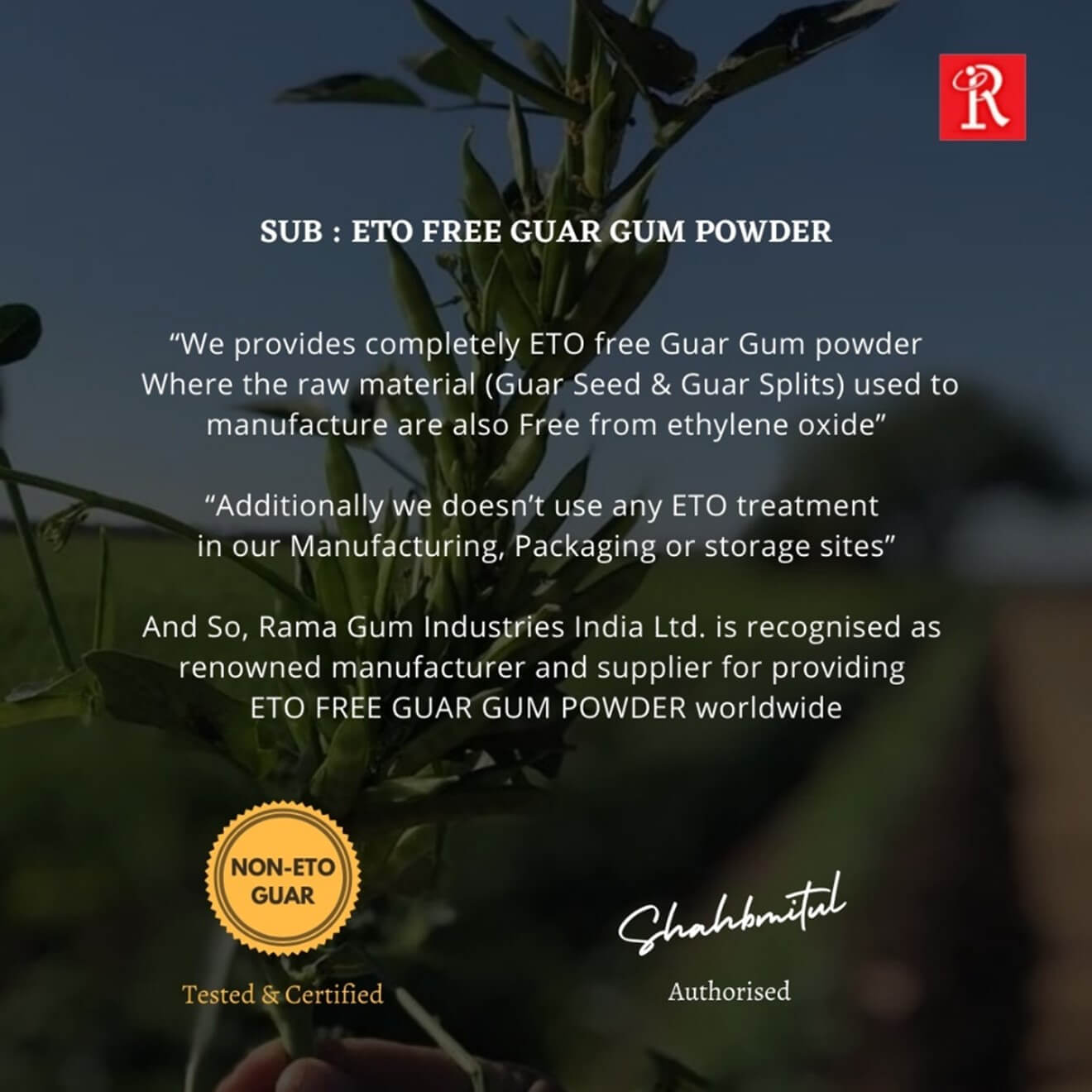 Rama Gum Industries India Ltd. provides completely ETO free Guar gum powder. Where the raw material used to manufacture (Guar Splits) are also free from ethylene oxide. Additionally we doesn't use any ETO treatment in our Manufacturing, packaging or storage sites.
ETO Free – Guar gum is certified and tested used third party lab compliance
ETO free Guar gum is very compatible with wide variety of organic & inorganic substance with also few dyes & various constituents of food.
It is observed that in low concentration, guar gum carries excellent settling properties & it also acts as filter aid.
ETO free Guar gum powder carries sturdy hydrogen bonding properties.
Guar Gum is reasonably cost effective as compared to any other thickening agent or effective binder.
Guar gum is also popularly known also recognized as gomme guar, goma guar, galactomannan, guarkernmehl, and guaran.