Ricol® Guar gum powder contains an ingredient that can absorb water and thicken the mixture. When applied to your hair, this mixture coats it with a transparent layer that thickens your hair strands.
This layer then protects the hair from breakage. Guar gum also has properties that give your hair a sheen and makes it more manageable.
According to Researchers at Rama Gums – Guar gum has many benefits for the hair. When used in a formulation with the right proportion of water and guar gum, you can use it to improve your hair in the following ways:
Guar gum hydrates the hair by sealing in the moisture.
It acts as a conditioner and makes hair smooth and shiny.
It prevents breakage.
It reduces frizz in the hair, protects the hair strands from pollution, and prevents static.
It reduces product buildup in the hair.
It makes hair more manageable as it performs the role of a detangling agent.

(Result after using Guar based hair product)


How to Use Guar Gum?

Guar gum being 100% natural can be used as a conditioner for hair where it prevents the buildup of polymers due to the use of hair care products. When used in skincare, it increases the skin's natural moisture and works as a positive charge to help the damaged cells of the skin and hair bond better.

Guar gum can be mixed with water at room temperature. It should not be heated if you are using it as a conditioner in many products, a thinner solution prepared the same way can be an effective detangler for wet or dry hair.

Guar Gum Powder in Hair Treatments?

It is used by many brands regularly, for home use you can make a mixture of guar gum and water. Take half teaspoon of guar gum and mix it with one cup of water. It should dissolve entirely and must be free of any small lumps. Ensure to keep stirring until it is fully dissolved.

After mixing the guar gum into the water, cover it, and keep it aside for an hour. The guar gum would have absorbed water, and it will have formed a jelly-like paste. It is now ready to be used on the hair.

If you are unsure about lumps, you can even mix the guar gum with a little glycerin first till it is completely dissolved and then mix it with water.
Blend this paste with your conditioner and apply it to your scalp and hair by dividing your hair into smaller sections. Leave it on for 15 minutes. Rinse off with warm water for thicker, shinier hair.
For Inquiry Click here
Recommended Dosage
Generally from 0.2-2% .Since guar gum has a high pH level that is more than 9, the solution's pH level should be less than 7.
You can add one or two drops of concentrated lemon juice or a tiny pinch of citric acid to lower the pH level.
What Are The Attributes To Watch Out For?
Though guar gum prevents the buildup of other hair care products, using it can cause a buildup of the jelly-like mix itself. Use a clarifying shampoo at least once a month to remove all traces of buildup, natural or chemical.
When mixing the guar gum with water, do not pour the entire guar gum into the water. Just tap the teaspoon lightly so that small quantities of it fall evenly into the water. or you can even use an blender once all of the powder is added to ensure that no lumps remain
During preparing your guar gum mixture, it has to blend entirely and only in the recommended dosage, or the mixture becomes too thick for use. If you want to use it as a detangler, you can add less than 1% of it to rose water, tea or water.
Interactions
Rama Gum Industries is largest supplier of Guar Gum powder that is used across several formulations in the textile, ceramic, food and pharma industries. In the cosmetic industry, it is used as an emulsifier, stabilizer, thickener and conditioning agent in skin and hair care formulations.
It is popular in the cosmetic industry because it can thicken a solution without having to heat it. It is also used to make lotions and creams more viscous. Due to its stabilizing qualities, it reduces the chances of some ingredients from solidifying inside the formulation.
Studies have shown that guar gum is a naturally derived ingredient and is safe to use. It is increasingly popular as an organic emulsifier in skin and hair care products. Due to its nutrient and medicinal properties, it is frequently used in the food industry as well.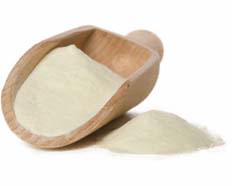 For Inquiry Click here