The Producers of Oil and Gas have been using Hydraulic fracturing (frac) techniques to improve productivity where oil and gas reservoirs will not produce naturally.  In particular, formations with low permeability's, tight rock or shale, are targeted.
Hydraulic fracturing is the method used to create a pathway from billions of tiny pores in the rock to the wellbore. Thus, allowing oil or natural gas to flow between the stimulated reservoirs back to surface at a significantly increased rate of production with less resistance to flow.
Fracturing fluids are pumped into the rock formation under hydraulic pressure creating cracks or fractures in the rock wide enough to transport proppant into the induced fractures.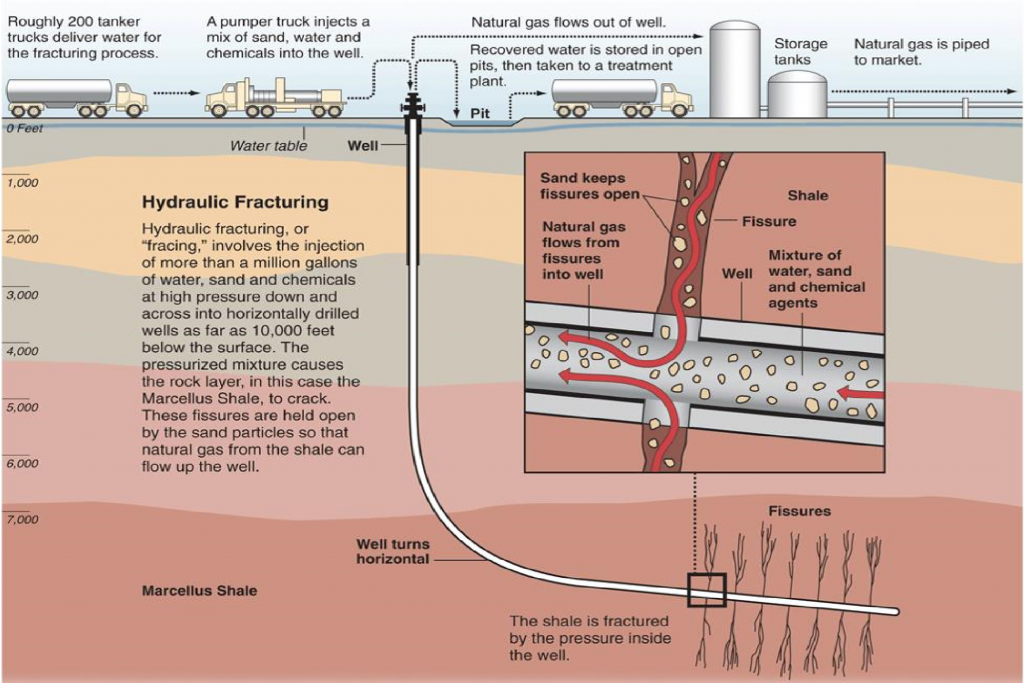 The proppants and fracturing fluids need to be compatible with the reservoir structure and leave minimum damage once the fracturing fluid breaks and flows back from the well in the cleanup process.
 Desired Properties of fracturing fluids. :
Sufficient viscosity to create a fracture – 2-42 centipoise (cPs) for weaker formations and 100-500 cPs for stronger formations
Transport proppant into the fracture
Low friction
Viable Economically
Easily removed from the fracture
Low impact of metallic erosion (parts of pumps and pipes)
Two of the available hydraulic fracturing fluids are:
Viscosity water-base – Guar Gum
Low Friction water-base – Friction reducer water (FR/Slick water)
 Advantage of using RICOL-FH Guar gum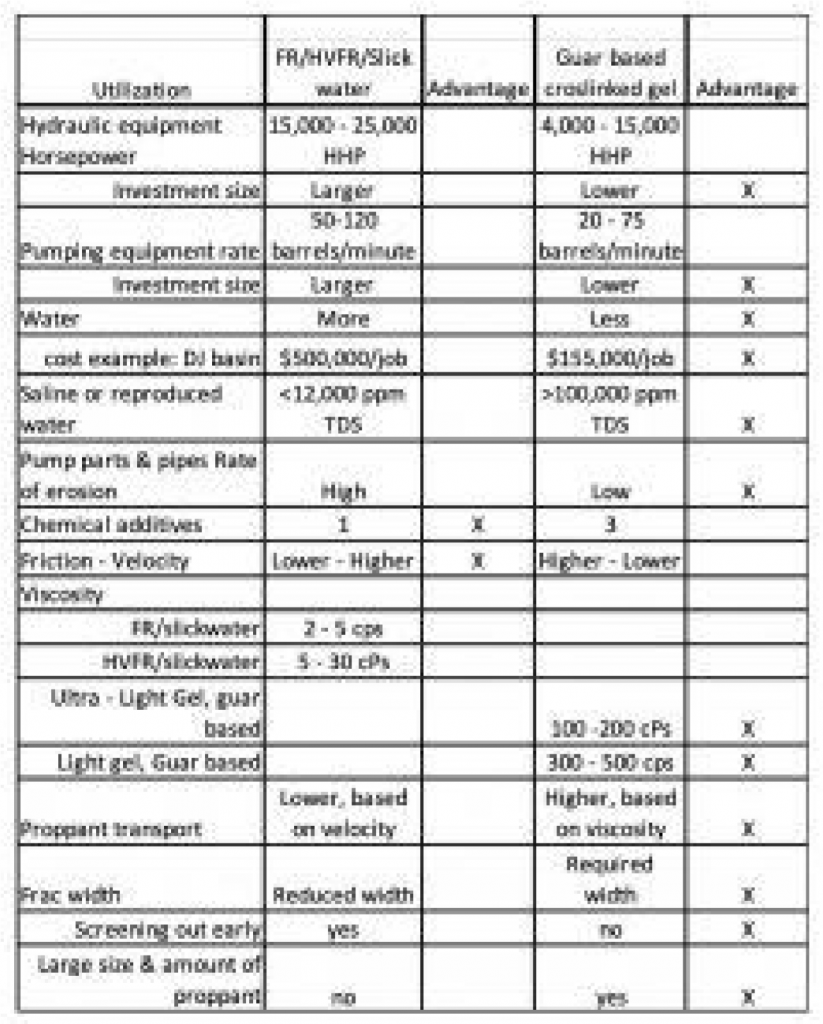 Cost-wise FR is less expensive on a per barrel (bbl) of fluid basis however, But much more water needs to be pumped on every job the fluid extra costs more than offset any savings.
FR perform well only in water with less than 12,000 parts per million (ppm) of Total Dissolved Solids (TDS). However, many drilling sites experience shortage of water with less than 12,000 ppm TDS while saline and/or reproduced water is readily available. Using FR in saline and/or reproduced water will require adding boosters (surfactants) thus increasing cost and more over requires a unique specific chemistry for each booster to assure that FR shall not lose its low friction properties, universal booster for all conditions is not available.
HVFR, where the mix will be at a rate 1-10 gpt instead of 0.5-5 gpt thus increasing viscosity to 5-30 cPs from 2-5 cPs, like FR will require utilization of boosters (surfactants) thus increasing cost and more over requires a unique specific chemistry for each booster to assure that HVFR shall not lose its low friction properties, universal booster for all conditions is not available.
Guar Based Gel Systems as Friction Reducers
RICOL Guar gum was one of the first polymers used to provide viscosity to water for fracturing applications. Guar gum comes from the endosperm of guar beans, the beans are processed to separate the endosperm (splits) from the bean hull and Protein. The splits are further flaked and ground into powder which is used in the fracturing fluids cross-linking system.
                 Here are multiple reasons to use Rama Gum as your guar supplier.
Ricol FH Guar grades are compatible with both freshwater, saline and reproduced water, making them much more stable in all environments provided pH is controlled to ensure cross-linking of the fluid.
Reasons to use Ricol FH Guar gum 
Control of water loss,
Viscosity,
Suspension,
Turbulence,
Mobility,
Friction reduction.
Instantly available Ricol FH Guar gum grades
| | | | |
| --- | --- | --- | --- |
| Grade | RICOL FH 35-40 | RICOL FH 40-45 | RICOL FH 45-50 |
| FANN VISCOSITY (cold , 0.4 % solution) in cps | 35-40 | 40-45 | 45-50 |
| Appearance | White/Pale white fine Powder | White/Pale white fine Powder | White/Pale white fine Powder |
| Moisture | 4% Max. | 4% Max. | 4% Max. |
| 'pH (1% M) | 5.5-7.0 | 5.5-7.0 | 5.5-7.0 |
| Mesh (Th 200#) | MIN 99% | MIN 99% | MIN 99% |
Guar-Based Fluids Currently Used in Shale's
Fast hydration guar gum powder (FHG) is also known as quick hydration guar gum powder, diesel slurry guar gum, etc. Regular guar gum powder gives viscosity after two hours whereas fast hydration gaur gum powder achieves more than 85% of its final viscosity within few minutes.
The most common use of this product is to increase the production of oil & gas and is used in industries like well drilling, oil & gas drilling. It is mostly used for applications where quick hydration and high lethal viscosity is required.
Fast hydrating guar gum powder used as a surfactant, artificial polymer and defamer which is perfect for all rheological necessities of water-based and brine-based drilling fluids.
We offer our widespread range of fast hydration guar gum powder in order to grasp and meet diverse supplies of our well-regarded customers. The product range on hand by our company is widely accepted in the market for its excellent features like transparency, safe and sound handling, long shelf-life and precise composition.
Thus, we make every effort to maintain outstanding market values in FHG and satisfy diverse needs of market competency.
Guar Gum Production
We are the leading manufacturers and suppliers of Guar Gum powder and Guar Gum
Splits in Gujarat, India. We here at Rama Industries give great importance to Quality. Packaging of Guar Gum is done in such a way that it preserves the highly delicate product in good condition for a long time.
The history of Rama Industries dates back to 1990 when the promoters of this Company established a guar splitting plant at Deesa, Gujarat State of India. In the year 1997 the first line for production for Food Grade Guar Gum Powder was set up in a completely new premises under direct control of technocrats, well qualified and having experience of the trade to their credit, highly qualified partners under whom the entire working of the Unit and the Manufacturing process is constantly watched, vigil and care being exercised so as to regularly maintain the quality of the products. Since then the production, quality control, warehousing and other facilities have been expanded and improved from time to time. Now we have expanded 7 separate plants —4 especially for Food grade and 2 for technical and oil drilling grade.1 for derivate use
Rama industries and its flagship brand Ricol command a high reputation worldwide for quality products, efficient services and level of reliability as a stable supplier of quality products. The company lays special emphasis on maintaining quality standards parallel to the highest in the industry. It is always busy developing new and improved products for various applications.
Rama Gum Industries India limited – FSSC-22000, BRC, ISO
22000, HACCP, GMP+, FAMI-QS, KOSHAR, FSSAI & HALAL CERTIFIED COMPANY
For Inquiry click here