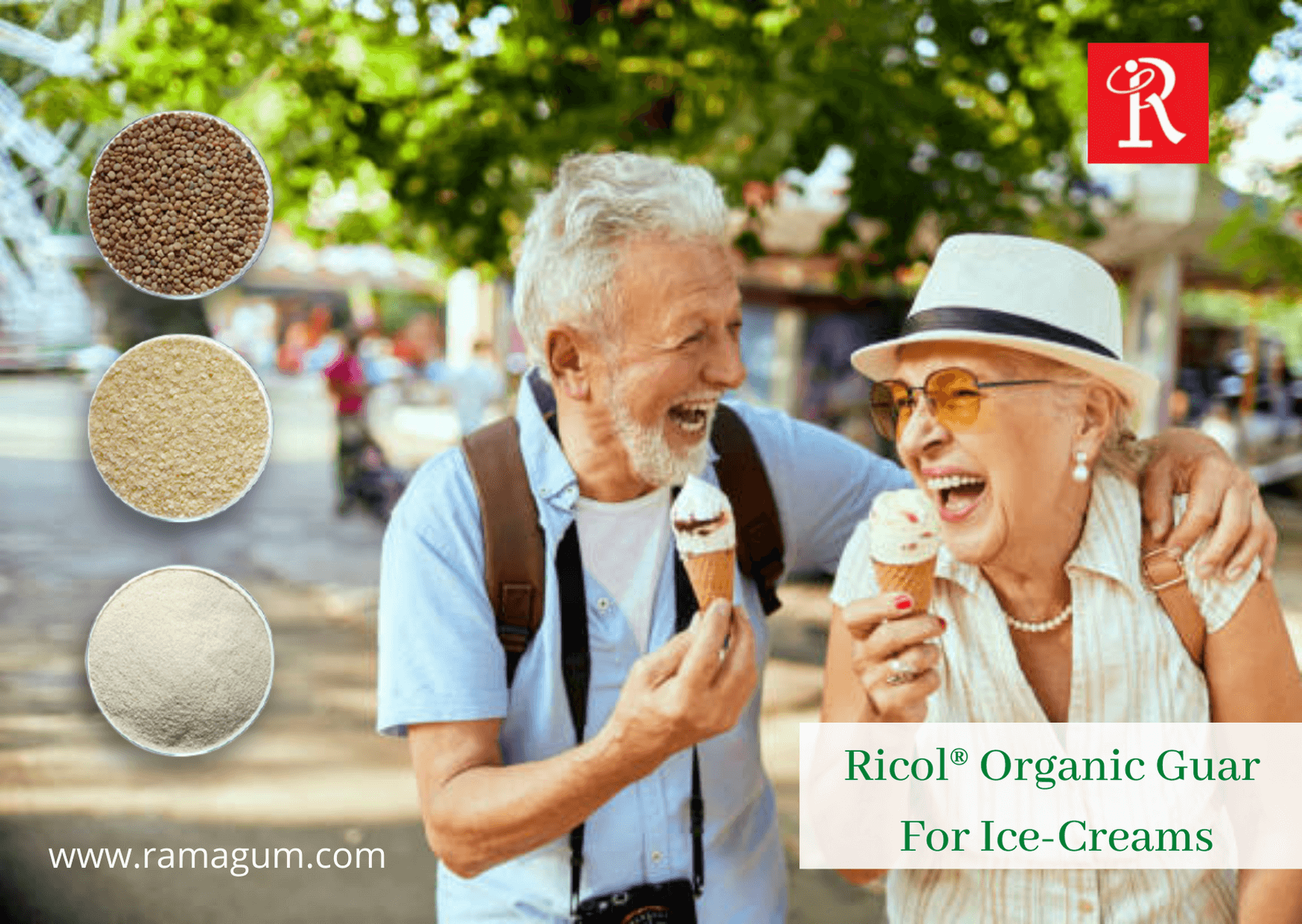 The global ice cream market stood at a value of USD 62.3 billion in 2020. The market is further anticipated to grow in the forecast period of 2021-2026 at a CAGR of 7.5% to reach USD 96.1 billion by 2026and although ice cream manufacture relies on many factors, there is one product it cannot do without, and that is guar gum powder or E412.
Where as in the case of organic ice creams, it's important to note that manufacturers increasingly rely upon our guar gum powder, which is the only true certified organic stabilizing agent in the world.
But why is guar such an integral ingredient within ice creams and why are more and more ice cream manufacturers turning to Rama Gums for their guar supply?
Guar as a Natural Thickener in Food Manufacturing
Guar gum powder – E412 provides a smooth and velvety structure of Worlds favorite dessert, but that's only one of the manifold benefits it provides the ice cream and other industries.
This desert legume experienced a rebirth in 1945 due to the war shortage of locust bean gum (LBG), at which time guar gum was studied as a potential substitute.
Since the 1950s, guar gum powder has been used to make processed foods, in which it acts as a thickener and prevents the formation of ice crystals, which is essential to the creamy aspects of ice cream.
The majority of the world's guar about 80% is grown in India and Pakistan, and the Leading manufacturer and supplier is Rama Gum Industries India Ltd serving the world since 1989 with production capacity of 55000MT.
The guar plant is cultivated specifically for its endosperm, which is utilized as a stabilizer, emulsifier and thickener in a multitude of food products including: yogurt; gravies; sauces; gluten free backed food; cheese; soup; pudding and breakfast cereals etc.
Analysis and Important study
As observed study was conducted at the Department of Food Chemistry and Nutrition at The College of Food Technology in India.
Entitled: The Effect Of Guar Gum On The Viscosity Of Ice Cream, it was published in the Asian Journal Of Dairy and Food Research, and it studied the effects of various concentration of guar gum on the viscosity of ice cream.
Results indicated that as the concentration of guar gum (0.4 per cent) in ice cream was increased, so did the thickness of the ice cream.
Relevant Statistics
The global guar gum market was valued at USD 525.3 million in 2017, and is estimated to reach a compound annual growth rate (CAGR) of 4.4% from 2018 to 2025.
Experts surmise that the increasing demand for convenience food and the fact that guar gum as an additive offers an extended and more stable shelf-life to processed food will significantly impact industry trends.
The surging demand for food-grade guar gum for use as natural thickener in many foods is aligned with the expansion of the food processing industry.
Why Stabilizers in Icecream?
Stabilizers are hydrocolloids, which means that when they disperse into a liquid they bind to the water molecules, reducing their movement. Which causes increase in viscosity or thickening.
Stabilizers can improve ice cream in several significant ways:
they reduce ice crystal growth
they reduce air bubble size
they slowdown melting
they increase smoothness, body and creaminess
they deliver flavor cleanly
Most of the stabilizers used in ice cream production other than Guar are incompatible with milk proteins, and upon contact, will cause a phase separation known as 'wheying off'.
This refers specifically to the leaking of a clear watery serum layer during the melting of ice cream, which renders an unsavory appearance.
Guar Gum Powder and Ice Cream
Guar gum powder is valued in ice cream production for a number of reasons, not the least of which is its ability as a stabilizer to enhance its thickness and the perception of creaminess.
A high milk fat content and small ice crystal size are most often linked to the successful impression of a smooth and creamy consistency.
Ice cream generally contains seven categories of ingredients
milk fat
milk solids
sweeteners
stabilizers
emulsifiers
water
flavors.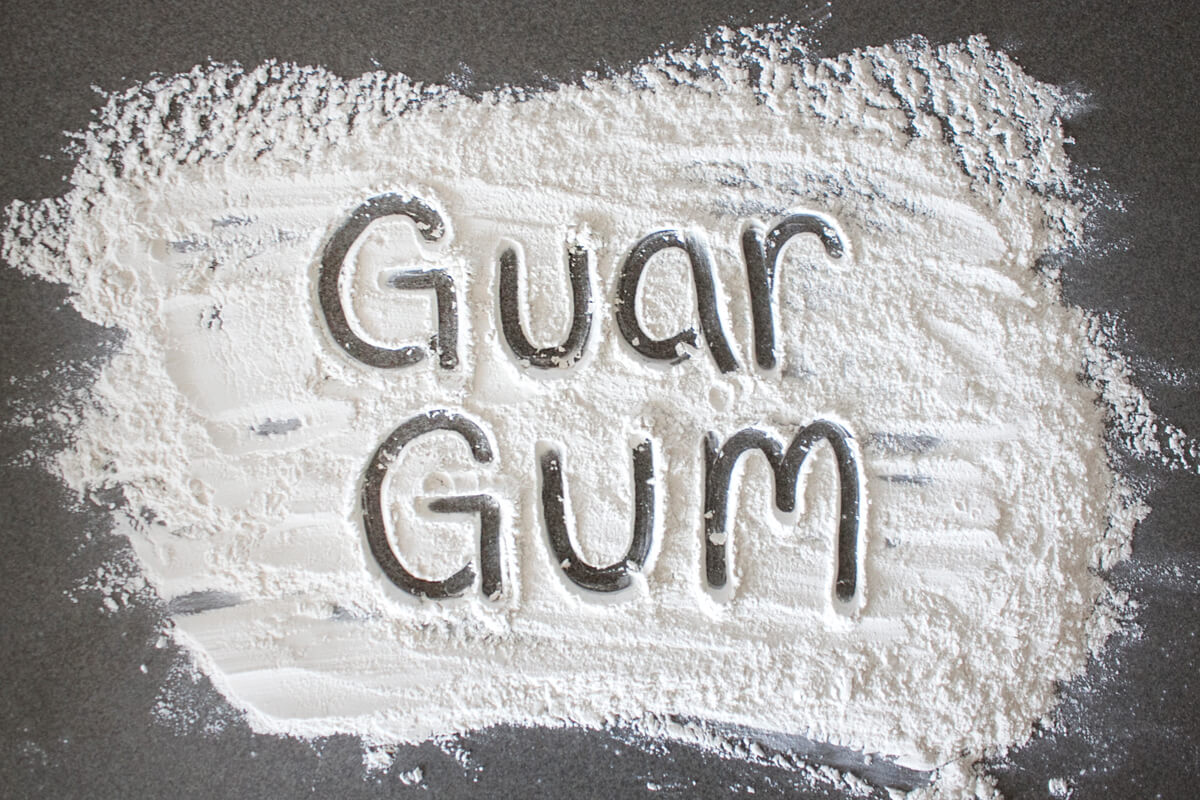 Stabilization is vital to the production process because the greater the increase in viscosity, the smoother the ice cream's texture and resistance to melting will be.
Viscosity concerns thickness, with heavier liquids, such as honey, having higher viscosity levels than water. Stabilizers also provide a slow and uniform meltdown, enhance whip ability and help to reduce fat content.
Why Ice Cream Manufacturer Chooses Guar gum Powder
Due to below reasons each Ice cream manufacture opt for guar
Economical, containing up to eight times more thickening power than cornstarch. Guar gum also contributes to the "mouth feel" and flavor release of ice cream.
As a polysaccharide Guar gum affects the ultimate character of ice cream with a concentration of 0.2%, which results in to its finest and tastiest version.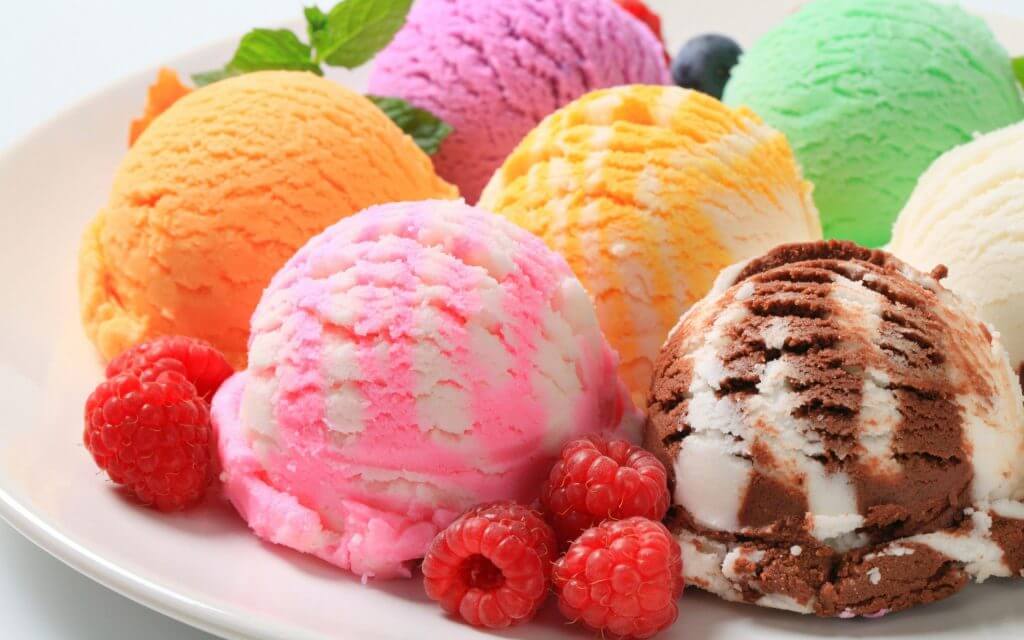 In addition, guar gum also reduces the growth of ice and lactose crystals that can occur during storage periods. Ice crystal size is a critical factor in the development of ice cream, and they should always be small in size, about (0.001 cm). Larger crystals can result in coarser textures.
As per studies Scientists believe there are three mechanisms involved in the retardation of the growth of ice crystals. The first phase concerns the enhancement of viscosity caused by guar gum stabilization, which slows down crystal growth by decreasing the diffusion of water molecules.
Gel formation networks, which occur around ice crystals during fluctuations in temperatures, retard the movement of water to a larger crystal, and subsequently, its enlargement.
Without a stabilizer, this gel barrier is lacking, and the size of the crystal increases because the water diffuses faster and migrates to a bigger formation. Ice crystals can grow anywhere there are temperature fluctuations that cause them to melt and then re-freeze.
Guar gum also corrects one of the biggest problems with ice cream storage, which concerns shrinkage. This refers to the loss of volume in ice cream before any of it can be removed from the container.
Rama Gum – Largest Organic Guar Gum Manufacturer, Supplier and Exporter
Rama Gum is a customer-centric company involved in acquiring, processing and export of guar gum, since 1989. The company is Organic Certified along with GMP+, BRC, HALAL, KOSHER and FAMI-Qs Certified and recognized company.
The company also offers high quality of Guar Gum Powder, Guar Gum Splits, Guar Meal, Fast Hydration Guar Gum Powder, Cassia Powder, Cassia Tora Splits, Fenugreek Gum Powder and Sesbania Gum Powder.
We have an advanced infrastructure, skillful personnel, and efficient R&D department which promote us to provide high quality products and unmatched customer services at the cost-effective rates to our valuable customers across the globe.
All Guar is 100% natural, gluten free and vegan, our end-product is also certified and made exclusively from guar beans grown in the India via sustainable farming.
In conclusion
Rama Gum Believes in "Binding Relations through Ingredients"
It's for all of the reasons listed above among others why more and more companies are opting for our transparency, quality and dependability over other guar suppliers.
Choices are always at the core of the human condition. When it comes to producing the best ice cream possible, one company, Rama Gum Industries India Ltd and our product guar gum powder shine above all the rest.